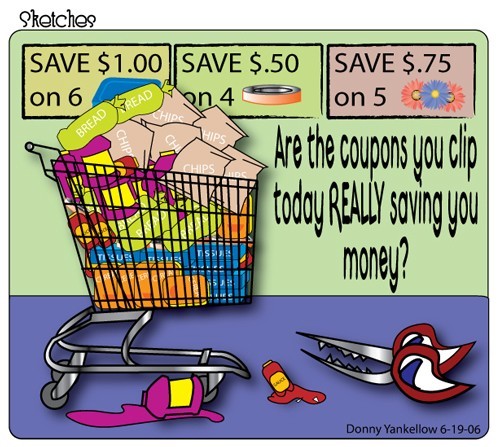 I am not a thrifty person. I am not a coupon clipper or much of a deal shopper. My mother is and she taught me how. I am just too lazy and not convinced it is generally worth my time and effort. With one major exception - online retailers.
Every time I load my online cart up (for me quite frequently) I stop and open a new tab and do a Google search for coupon codes, discount codes, etc for the store I am shopping at. Why on earth not? It takes me seconds maybe a few minutes at most and at least half the time I come up with a coupon that saves me money.
Just tonight I was doing my grocery shopping from an online grocer and started with a cart full of groceries at 123.45. I found a $50 off orders of $125. I went back to my cart and added a two dollar item in order to save $48. Another quick search brought me free delivery for the remainder of the year (retail value on the site of 50). Saved me another $7 off my current order. Grand total 68.00 - I saved nearly half my grocery bill plus I now have free delivery for rest of year. Say I order 3 more times that is an additional $21 saved. And because I don't need to worry about shipping costs I can make small orders in the middle of the week if i need to with no penalty.
Now that was worth a few minutes of my time. While that was one of my best deals in recent times i almost always manage to find anywhere from 10-20 off an order or free shipping - often both. Take a few minutes to Google coupon codes - it is usually worth your while.
I am nearly done with Christmas shopping. My personal goal is to be done each year by December 1st so I can just enjoy the month of December. This year, just like the past few years has been done almost exclusively online and with free shipping and no tax. Have to love that :)